Last night's show was, as always, incredible. While I have seen APC up close and personal (thanks to general admission shows and attending with Sarah, who is oh-so-wonderful at dragging me right up to the stage), I have never seen Tool this close before. It's no wonder Erich wanted to keep the seats a surprise, since they were in the center section, on the floor, in the ELEVENTH ROW.
Yes, dear friends, this means I was able to gaze longingly at MJK for 90+ minutes without a strain in the eyes.
Sadly, despite the heat in the arena, he never removed that green shirt of his. I had high hopes, of course.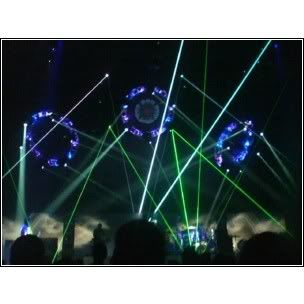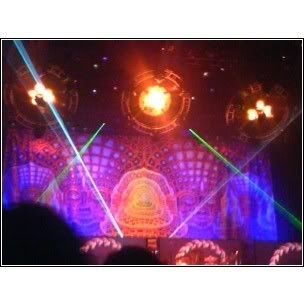 This was taken at the very end. If you look very carefully, Danny is on the right side of the picture, in red, holding a tree on top of his head.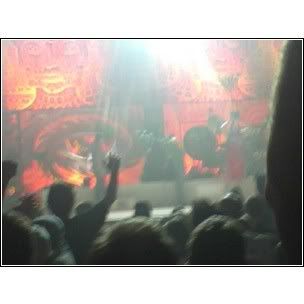 The setlist:
Jambi
Stinkfist (Extended)
46&2
Schism (Extended)
Lost Keys
Rosetta Stoned
Flood (Extended Intro)
-----------------
Wings For Marie Pt.1
10,000 Days
Lateralus (Extended/Solo)
Vicarious
I have to confess to being a tad disappointed that they didn't play Pushit. They've played it a few times this tour so I foolishly got my hopes up. It's my remaining coveted concert song. However, that's nitpicky - the extended versions of Stinkfist and Schism were amazing. The drum solo between Danny and the guy from Big Business was absolutely incredible. Danny is . . . something other than human? Every once in awhile I have been known to shift the eyes from Maynard to him and it's unbelievable what the man can do in front of a drum set.
All for now. I suppose I should go to bed.