rhd323
I've been rather terrible about updating over the last week . . . Ever since the "I love you, but casually" debacle, as it is now fondly being named.
So, the updates:
Friday morning, I saw the foot doctor. I just love rock star doctors. Appointment at 10:10. They fly into the room at 11:00. See you for 5 minutes. And leave. You wasted an hour of your time while they wasted none and made oodles of cash while doing so!
But I digress. They took some new x-rays. He said, despite the original difficulties with finding the break, it definitely was fractured. Showed me the x-rays and, indeed, it is! I expressed my surprise that I was allowed to walk in my normal shoes despite the still obviously visible fracture. Then felt dumb when he said it would take from 4-6 months for it to heel completely. The good news was that it was healing properly, nothing moved around as it did, and as long as the pain doesn't get worse I can never see him again. Joy. I should continue to refrain from heavy activity on my feet for another month and then take things slowly when I do. So, you know, no marathons for me for a long while. (Ha.)
Following the doctor, I did a bunch of running around which, unfortunately, ended my period of denial about tomorrow morning. Had to get my Xanax prescription filled (which required two trips to the pharmacy and a trip to the office to get a new prescription written because my original had already expired) and, while I was there, figured I'd stock up on . . . pads! Because, from what I hear, I'll need them for the next two weeks. I felt like I was 14 again at the counter.
On Saturday night, family and friends got together for a pre-wedding dinner. It was very Heather - at a casual Chinese restaurant/buffet! Then we stayed up in the Marriott lounge for a bit, drinking coffee and wine and chatting.
Sunday . . . Heather got married! There are two people in my life that I've known the longest - her and Sam - both from around 6th grade. She's the first to get married. (Not to rub it in Sam, of course. But hell, in the end, we'll have each other . . . ) Somehow, I ended up being the first at her house at 8:45 - and I even overslept and stopped for coffee. Heather was still in her sweats. Figures. While she was putting her dress on, the photographer showed up. So I made myself scarce for a bit and nibbled on a bagel while I drank my coffee. Slowly, the rest of the 'unofficial wedding party' showed up and it was time for some real photos. I have no recollection of what started the waterworks . . . it was probably during the photo of her and I (he took photos of Heather which each member of the party). So I got yelled at (for the first of many times) for setting others off.
We headed to the Marriott around 10:00 for the 10:30 ceremony. It was short, sweet, simple, and beautiful. When we got to the end of the aisle, waiting for Heather, I made almost-eye contact with Denis. His lower lip was quivering and he looked very close to tears. That was the beginning of my second round of tears. Then when the doors opened and Heather walked in, her father beaming (and if you knew her father, he's not the beaming type), and she was choking back tears. So I got worse. Walked back to find some seats. Somewhere around Denis saying "I do", I really lost it, and noticed people turning around to look at me. Oops. After Heather, Denis, and families exited and we started to leave, I announced that I would marry in an instant if I could find a fiance who would have such a difficult time choking back tears as he waited for me at the alter. Which made a few more people tear up. It made me so incredibly happy to see my best friend marry someone who looked so incredibly happy (damn near beside himself) to be marrying her.
Then, in the receiving line, I hugged Dale (Heather's mom). I started to walk away, turned around to give her a second hug, and then as I moved away again she started "You know, I still have those photos from that art contest in 7th grade . . . " And I lost it again. *sigh*
Tina the puppy showed up for some photos. Then we took more photos with the bridal party and so on. (I should add, John's boyfriend, Brett, originally wasn't going to be able to show. So I walked down the aisle with him. He wound up being able to come, but didn't want Heather to change things around for him. Joyce desperately tried to convince him and her otherwise, and then have me walk down with another female friend of Heather's - Lyndsey. She figured having three same-sex couples walk down the aisle before Heather would be . . . amusing. Ah, Joyce.)
The reception was really nice. A yummy brunch buffet, a toast in French that many of us couldn't understand, dancing (to which I was merely an observer - conveniently used the healing foot excuse), an ice cream buffet (which opened at the perfect time - right as Joyce and I were ending our LEEP discussion. She asked me about it at the table and we talked for a bit. For some reason, knowing she's already performed several of them in her second year of residency was comforting. I have no explanation.), and Heather and her father dancing to the Walker Texas Ranger theme song (because apparently he used to joke that it would be hysterical if that was the song they danced to at her wedding). Then we all filed over to Heather's parents' house to change into comfy clothes, eat more, and so on.
All in all, a lovely day despite the pouring rain. Heather is now a Mrs.
Heather and I, the night before.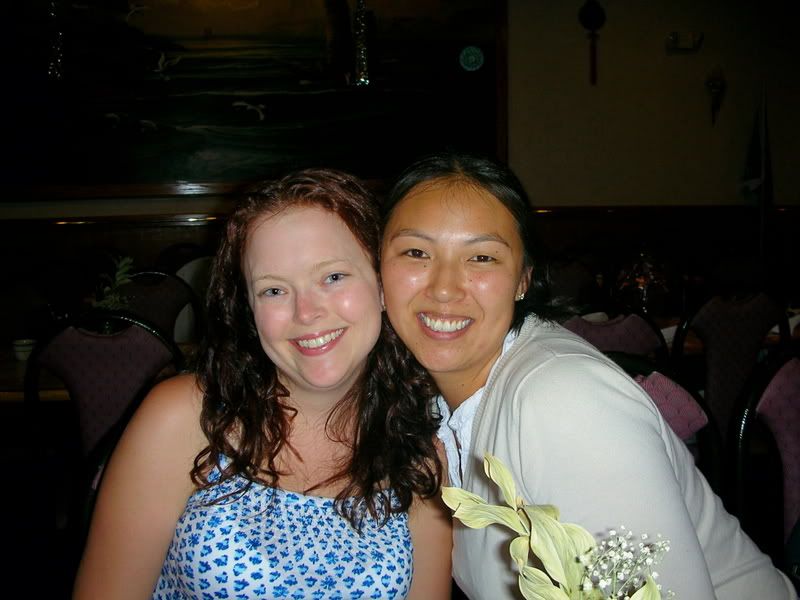 Mom forced me to let her take a photo before I left. Because "I never dress up." Then I had to wait while she called dad down the stairs. Gotta love when wearing a dress is such an ordeal. Chopped my face off because . . . it looked funny.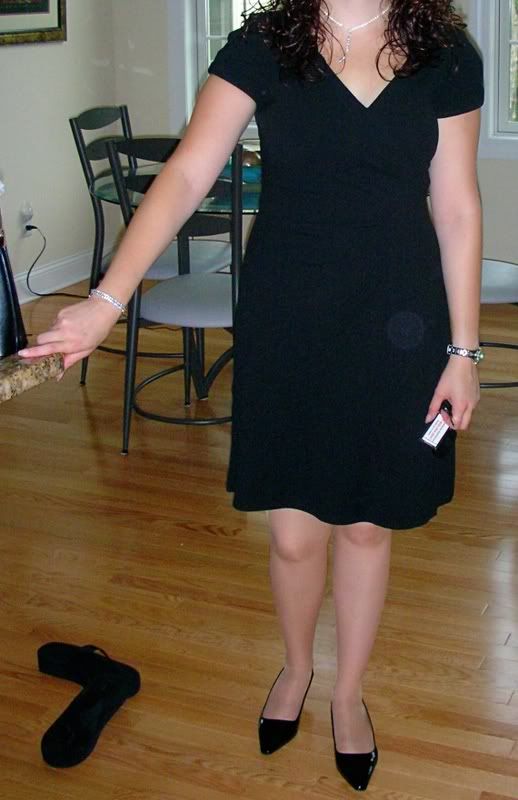 The bride, bravely consuming coffee before the wedding.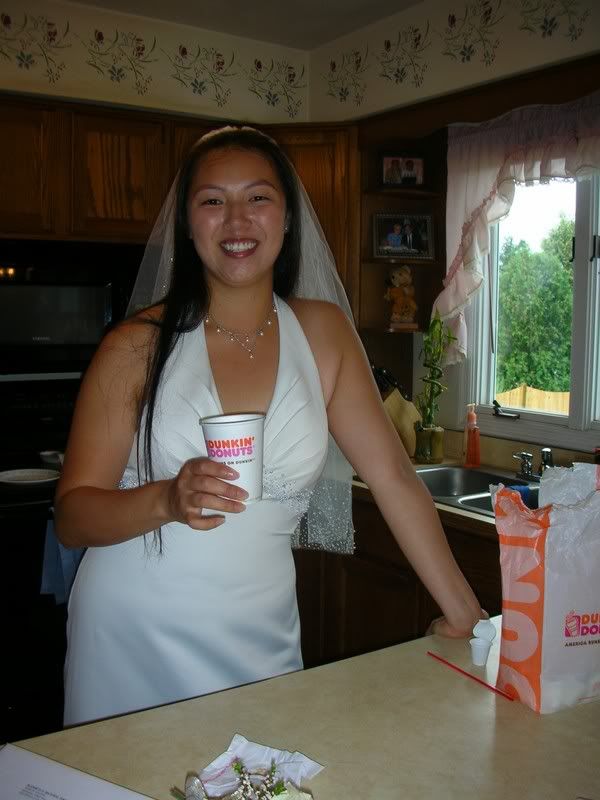 The family.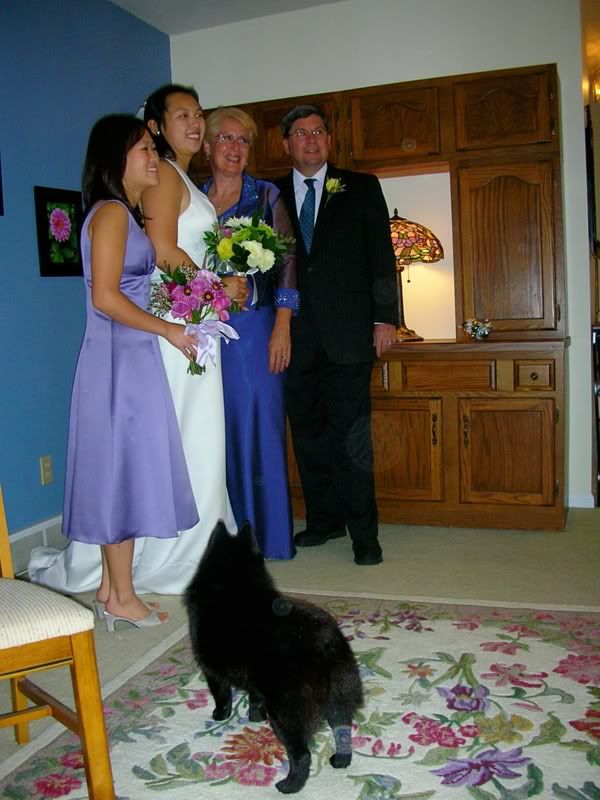 The women friends.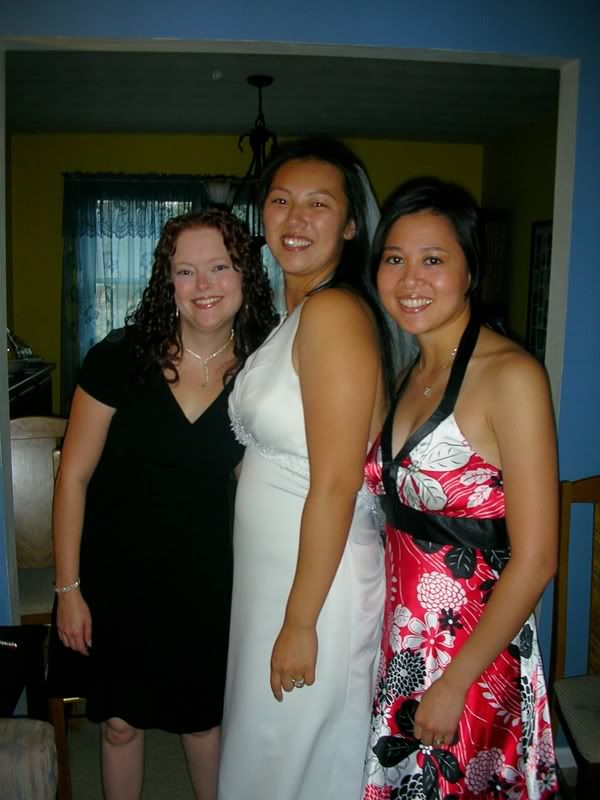 Another seriously adorable couple, just because. Jen and Joyce.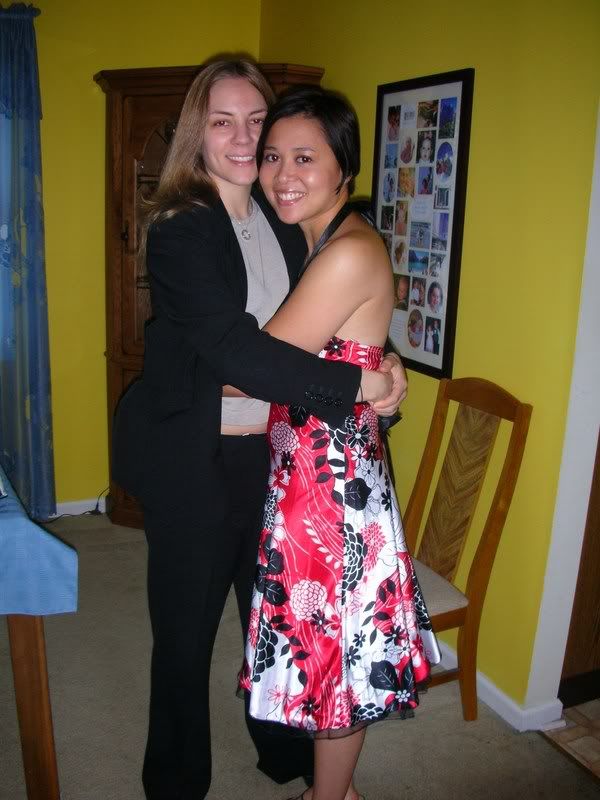 I actually felt a bit mushy during this wedding. *sigh*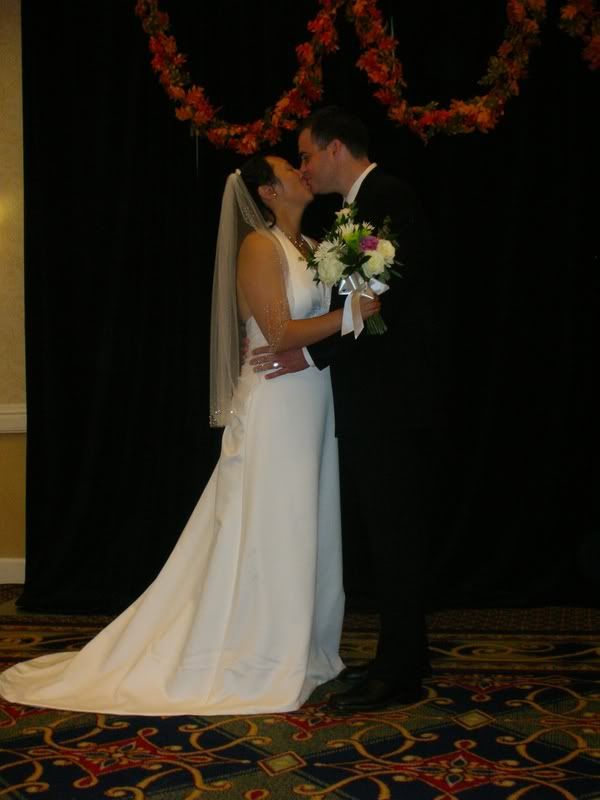 Blurry a bit, because I had it on the wrong setting. Idiot.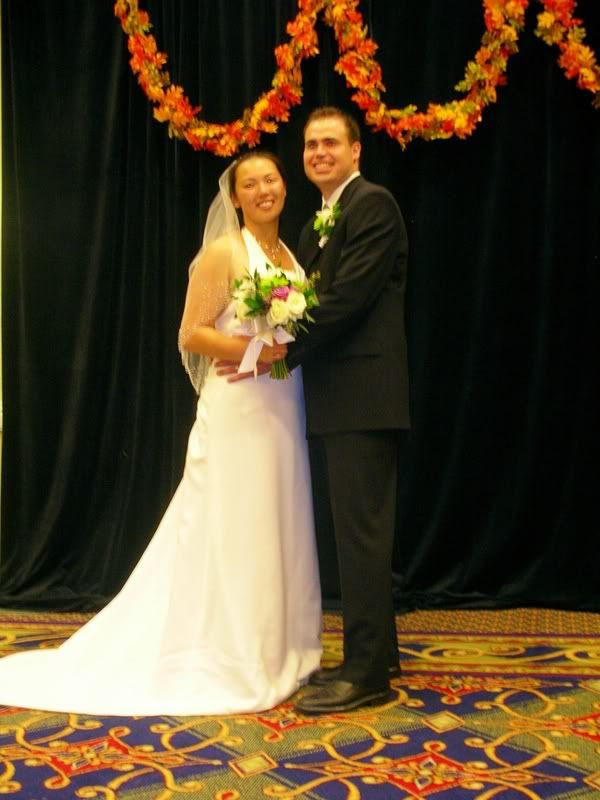 I hate how my face looks in every single one of these pictures.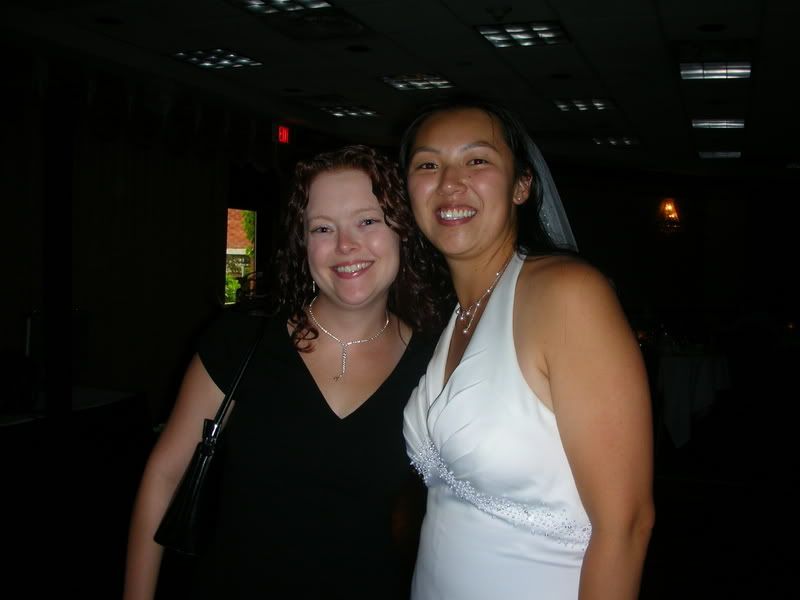 Joyce and I.
I slept in today, finally. I was exhausted by last night and actually went to be around 10. Had lunch with my mom's parents. Because I adore them. They seemed a little surprised that I wanted to take time out to spend with them. They're a huge part of the reason I want to come back to the east coast! (Of course, grandfather had to respond to that with "well, better not wait to long!" So I had to yell at him.) They never fail to amaze me. And make me feel incredible loved and at home.
Got a much needed pedicure.
Watched TV with mom while surfing the web.
Ate too much.
My stomach's feeling a bit queasy, but I suspect it's nerves. I know it's not supposed to be a big deal, but
someone is planning on sticking an energized wire into my cervix tomorrow, while I sit on a grounding pad, to cauterize a few pieces off . . . . And I'm not looking forward to it. Dad also isn't really stoked to sit in a gynecologist's office during the morning, but he'll get over it. Then we already have plans for him to stop and get me a big bowl of vanilla soft serve with peanut butter sauce on the way home. Ohhhh yeah.
Suppose I could try to sleep. I am sort of sleepy.